Want to diversify your portfolio?
With a Squirrel SMSF you can invest in cryptocurrencies.
Your Super, Your Strategy
Switching to a Squirrel SMSF gives you complete financial freedom for how your super is invested. For many of our customers that means diversifying their portfolio by investing in cryptocurrencies. Through your SMSF, you can use your super to invest in digital assets and grow your wealth for retirement - but be warned, this is a highly risky investment where you could end up losing everything.
High Risk Investment
As an entirely new asset class and with huge volatility in price, cryptocurrencies are a high risk investment that could either result in huge returns or major losses. If you are interested in cryptocurrencies and see potential for their adoption in the future, then you have the freedom to invest in many of these digital assets through your SMSF.
Cryptocurrency Audits
There is currently limited information from the ATO on how they govern cryptocurrencies as an asset class. It's therefore super important that you are on top of all your accounts when it comes to audit time. Our team have experience in helping our customers with crypto investments through the audit process and are always on hand to help you when you need us.
Why Squirrel?
Your Investment Dashboard
See exactly how your investments are performing, simply by logging into your account. Accessible wherever and whenever you want it, you can now track your entire portfolio at the tap of a finger.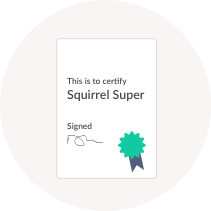 Experienced With Crypto
As well as experience helping our crypto investing clients through the audit process, we also have a number of team members that are well versed in cryptos as they invest in them personally.
Compliance Support
How you invest is up to you, but we're on hand to make sure you're compliant for your SMSF's annual audit. You also have unlimited telephone and email support with our Squirrel Support team.
Benefits Of Crypto Investments
Many of our new customers are choosing to invest in cryptocurrencies. Here's why.
Just as the internet was a revolution in the late 90s and early 00s , cryptocurrencies and blockchain technology is pioneering the way in which we share our information and money across the world. Many argue that this is a once in a lifetime opportunity to invest in the future.
There's no doubt that cryptocurrencies are in a bubble, but investors are utilising the volatility to their advantage by scoring huge percentage gains for their portfolios as some of their digital assets dramatically inflate in value.
There will only ever be 21m Bitcoin in circulation, making it deflationary as opposed to the inflationary value of real 'fiat' money. Over time, this could lead to a huge burst in demand as supply is limited.
Risks Of Crypto Investments
Investing in cryptocurrencies such as Bitcoin is highly risky. Here are some important things to consider.
The exchange platforms on which you buy and sell virtual currencies are generally not regulated, which means that if the platform fails or is hacked, you are not protected and have no statutory recourse.
The value of a virtual currency can fluctuate wildly. The value is largely based on its popularity at a given time which will be influenced by factors such as the number of people using the currency and the ease with which it can be traded or used
Just as your real wallet can be stolen by a thief, the contents of your digital wallet can be stolen by a computer hacker. Be sure to research an appropriate way to store your cryptocurrency
Many feel that the anonymity of cryptocurrency may provide an avenue for early release of super into a personal account. This is not the case, it will be up to you to prove where your cryptocurrency is at all times, any transfers to personal accounts will be considered a breach and fines will apply accordingly
The cryptocurrency market looks very similar to the Dot Com boom of the early 00s. Buyer Beware!