Looking for more stability?
Investing in Gold, Silver and Precious Metals
Tangible Assets For Your SMSF
Balancing your SMSF's portfolio with a range of assets is a great way to manage the overall risk for your investment strategy. Even in the aftermath of the GFC, Gold, Silver, Platinum and Palladium have always been traditional safe havens for investors and this will most likely continue, however they are still subject to price volatility.
Steady Annual Returns
Investing in gold and silver over the last forty years has been profitable for investors, returning an average of 9% per year. As your SMSF is a long term investment vehicle, it's good to take these long term figures into account, however in the last ten years Gold has had strong returns with over 10% per year and outperforming median balanced growth managed superfunds. Remember not to make future investment decisions on their past performance - all investment types carry risk.
ETFs or Storage
If you're buying Gold, Silver and other precious metals as an investment for your SMSF you will need to consider the storage of these assets as well. As an individual investor you could opt to store these at home (although that would be unadvisable!) however with an SMSF, this would be against the ATO's rules. Storage costs are therefore a consideration for investors in precious metals. Alternatively you can invest in ETFs (exchange traded funds) so you don't have the storage admin, but then are trading on value rather than physically owning the precious metals. Your investment strategy is down to you!
Reliable Store Of Value
Both Gold and Silver have stood the test of time and proved themselves to be reliable stores of value over the past 5000 years. They are often considered to be a good long term investment because they are finite, divisible, portable, tangible and have high liquidity. Of course, Gold and Silver also carry risks and are not immune to losing their value.
Why Squirrel?
Investment Dashboard
The Squirrel SMSF portal links up with most major trading platforms, so you can see how your investments are doing in real time and make adjustments easily.
Low Flat-rate Fee
We have a low flat-rate fee of $121 per month (inc GST), which stays the same no matter how much your SMSF balance grows as your investments yield returns. Find out more on our setup and admin fees here.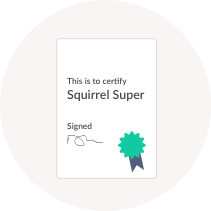 Learning & Resources
Access quality research on listed shares, exchange traded funds and hybrid securities. We're always adding new learning material so you can stay on top of your investment strategy.
Benefits Of Investing In Gold, Silver And Precious Metals
Gold has been a prized precious metal for thousands of years and is therefore a desirable asset to own.
Gold is often seen as an inflation-proof asset as it does not devalue like currencies do.
As a physical asset that you can touch and own, precious metals such as gold, silver, palladium and platinum you have a tangible financial insurance in the event of a social, economic or political catastrophe - this is in contrast to owning shares or cryptocurrencies which are basically just digits on a screen.
Risks Of Investing In Gold, Silver And Precious Metals
Owning gold and precious metals for investment purposes requires insurance and proper storage facilities such as a vault. This can be quite expensive and a hassle to sort out but is imperative for your SMSF.
There are many dealers claiming to sell gold that may not be reputable. Only buy gold from a reputable dealer.
Precious metals are also subject to price volatility and are not necessarily a 'safe haven' with guaranteed returns for your superfund.