Want To Diversify Your Portfolio?
Squirrel SMSF lets you invest in collectible assets with your super.
Investing In The Finer Things
Collectible Assets are a popular choice of investment for many SMSF investors, as they allow you to diversify your portfolio and balance your fund's risk. As with all SMSF investments, the most important thing to consider is that your collectibles, be they artworks, gold, jewellery or boats are for the sole purpose of providing benefits for your retirement.
You can invest in:
Fine Art (including paintings, sculptures, drawings, engravings and photography)

Jewellery

Antiques and artefacts

Coins and medallions

Bullion - Gold and Silver

Motor Vehicles (classic cars - and no you can't drive it)

Wine or Spirits
Why Squirrel?
Investment Dashboard
The Squirrel SMSF portal links up with most major trading platforms, so you can see how your investments are doing in real time and make adjustments easily.
Contribution Alerts
Get an instant alert for when your employer makes a contribution to your super. Check your balance in real time, whenever and wherever you like.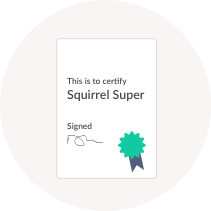 Learning & Resources
Access quality research on listed shares, exchange traded funds and hybrid securities. We're always adding new learning material so you can stay on top of your investment strategy.
Benefits of using super to buy collectable assets
If you know a good nut when you see one, your investment could gain value above the rate of inflation.

Capital gains tax before retirement stage is only 10% so when you go on to sell your assets, you'll minimise your tax liabilities.

With a limited amount of historical assets or gold for example, there is a favourable supply and demand curve in your favour.

Collectable assets are often global investments, so you could find a buyer anywhere in the world.
Responsibilities of using super to buy collectable assets
Collectables cannot provide a present day benefit to you or your immediate family. Basically, you can't use them yourself or get enjoyment out of them while they're in your SMSF.

Your collectable assets can not be stored at your home or the home of your friends/family members. You will have to store or display them somewhere that isn't a private residence owned by a related person (be this a family member or friend).

Your collectables MUST be insured in the name of your fund within seven days of you purchasing them, so make sure you've considered and factored in the availability and cost of insurance before you invest!

If you are leasing any of the collectable assets they have to be to an unrelated person/business and on 'arm's length terms'

For sales, you need to follow the valuation guidelines as outlined by the ATO. It's important to have a proper market valuation for tax purposes.